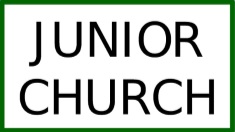 Junior Church meets on Sundays at 10:30 during the mid-morning service. We start in the Church and then move to our areas after a little while. We split into these separate age range groups:

| | |
| --- | --- |
| Creche | There is a baby area at the back of the Church where our youngest members will be looked after. |
| LEGO | For preschoolers to learn about the Bible and Jesus' teaching through activities and structured play. It starts with a time for sharing and a Bible story. Then we have nursery style interactive stations including music, role-play, craft activities and games suited to the Bible theme of the day. |
| Adventurers | For those of us at primary school who enjoy games, making things and learning about the Bible through different media (SU Light). |
| Youth Church | For those of us at secondary school meeting in a relaxed and friendly atmosphere where we explore and discuss the Christian faith. There's time to read the bible, time to reflect and a time to ask and answer questions about the subject of the day. |
St Peter's Church Hall has plenty of parking and operates a friendly but firm safeguarding process.
Note to parents and guardians: If you'd like to register your child in advance please call the Church Office on 01270 762213